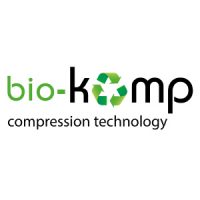 Biokomp S.r.l.
Via S. Leonardo Murialdo, 21 – 36030 VILLAVERLA (VI)
Telefono: +39 0445.350663
Sito web: bio-komp.com
Referente commerciale Italia: Ing. Matteo Sostizzo
Mobile: +39 348 5606164
Email: [email protected]
VERSIONE ITALIANA/ITALIAN VERSION following you find the english version
Biokomp, fondata nel 2011 in provincia di Vicenza, è una realtà giovane e dinamica costituita da risorse specializzate nella progettazione e costruzione di impianti chiavi in mano per il trattamento compressione e purificazione di Biogas, Biometano, Metano, Gas Industriali (syngas, coke oven gas, idrogeno) e Aria ATEX.
COSA REALIZZIAMO PER IL BIOGAS E BIOMETANO
Facility strategiche dal pretrattamento all'immissione in rete del gas compresso. Per garantire un rapido ritorno dell'investimento, Biokomp utilizza solo componenti di alta qualità, design compatto, motori vettoriali ad alta velocità e inverter dedicati, profili speciali, cuscinetti sovradimensionati, coating con nano-particelle e telecontrollo easy-access.
Impianti chiavi in mano da 5 a 5000 Nm3/h
Sistemi di pretrattamento (desolforazione, deumidificazione, prefiltrazione)
Booster e compressori da 0,1 a 300 bar con soffianti, compressori centrifughi, a vite o a pistoni.
Sistemi di post trattamento (disoleazione, essiccazione, ultrafiltrazione)
Tutti i nostri sistemi possono essere modulari, con struttura aperta, chiusa o in container dedicato. I compressori Biokomp sono conformi alla direttiva ATEX 2014/34/EU, e possono essere personalizzati per installazione in zone classificate 1 o 2.
COME FORNIAMO ASSISTENZA
Dallo studio di fattibilità fino alla manutenzione degli impianti, Biokomp è impegnata ad offrire:
Consulenza tecnica e progettazione
Controllo installazione e avviamento impianti
Assistenza telefonica e supervisione da remoto degli impianti H24, 365 giorni all'anno
Contratti di manutenzione programmata
Contratti full-service pluriennali e gestione magazzino ricambi
PERCHÉ SCEGLIERCI
Per noi, ogni progetto è una sfida a raggiungere i più elevati standard qualitativi e ad ottenere il riconoscimento del nostro valore da parte del mercato. La nostra squadra sceglie ogni particolare in base al migliore compromesso tra tecnologia e affidabilità, puntando all'eccellenza in termini di performances, risparmio energetico e sicurezza.
_____________________________________________________________________
ENGLISH VERSION

Biokomp, a young and dynamic company, started its activity in 2011 in the industrial district of Vicenza. Our engineering team is specialized in the design and manufacturing of turn-key solutions for treating, compressing, and purifying Biogas, Biomethane, Natural Gas, Industrial Gases (Syngas, Coke Oven Gas, Hydrogen), and Air compressors for hazardous zones.
WHAT WE DO IN THE BIOGAS & BIOMETHANE SECTORS
Strategic units for the complete process chain, from pre-treatment of raw biogas to grid-injection of pure Biomethane. To achieve rapid ROI on your projects, Biokomp uses only high-quality components with a compact design, high-speed motors, dedicated drives, special profiles, oversized bearings, Nano-particle coatings and easy-access remote control systems.
Turn-key treatment & compression plants from 5 to 5000 Nm3/h
Pre- treatment (Desulfurization, dehumidification, dedusting)
Booster, MP & HP compressors from 0,1 to 300 bar (using blowers, centrifugal, rotary screw and piston compressors).
Post-treatment units (Oil removal, dryers, ultra-fine filtration)
All our units can have a modular design, with or without closed canopy or containerized. Biokomp can provide bespoke compressors designed to comply with the ATEX equipment directive 2014/34/EU, and meet ATEX Zone 1 or Zone 2 requirements.
HOW WE MAKE A DIFFERENCE
From the feasibility study to maintenance of installed units, Biokomp can provide following host of services:
Technical advice and engineering
Post-installation supervision including start-up of the unit
Online support and remote control of the installations 24/7
Scheduled maintenance contracts
Full-service agreements and spare parts inventory
WHY CHOOSE US
We see every project as a challenge to achieve the highest quality standards and the acknowledgement of our value by the market. Our Team selects each detail according to the best tradeoff between technology and reliability, aiming for excellence in terms of performances, energy saving and safety.
Anno fondazione: 2011
Fatturato 2017: 1 Mln €/a
N° dipendenti: 7
N° realizzazioni: 101 (fine 2017)