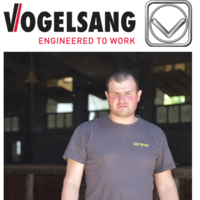 ALBERTO ZANELLA HA SCELTO VOGELSANG
Utilizza il sistema di alimentazione 4 in 1 PreMix per il suo impianto
"Ho scelto Vogelsang perché il sistema PreMix mi assicura una perfetta miscelazione delle matrici all'interno del digestore evitando galleggiamenti e riduce gli autoconsumi" – Alberto Zanella, proprietario dell'Azienda Agricola Sant'Agostino, Italia
La nostra è un'azienda di famiglia, passata da mio nonno a mio padre e adesso a me, produciamo vitelloni su lettiera e coltiviamo 30 ettari. Nel 2021 abbiamo deciso di installare un impianto di biogas da 100Kw, interamente alimentato a letamo bovino, proveniente dalla nostra azienda e, come sistema di alimentazione, dopo diverse ricerche ho scelto il PreMix di Vogelsang. Questo perché abbiamo un letame molto "faticoso", secco e con fibre di paglia lunghe, e per creare un'ottima miscelazione all'interno del digestore evitando di avere galleggiamenti in vasca,
Siamo il primo impianto di piccola taglia in Italia ad avere installato il sistema PreMix Vogelsang e ne siamo molto contenti perché questa tecnologia ci permette di tenere gli autoconsumi dell'impianto davvero molto bassi, rendendo davvero efficiente anche un biogas da 100 kW.
L'Azienda | Soc. Agr. Sant'Agostino
Anno di costruzione dell'impianto | 2021
Taglia | 100 Kw
Matrici | letame bovino su paglia – triticale
Prodotti e soluzioni Vogelsang | Sistema di alimentazione liquida PreMix
He uses the PreMix 4-in-1 feeding system for his biogas plant
"I chose Vogelsang because the PreMix system ensures perfect mixing of the matrices inside the digester, avoiding floating and reducing self-consumption" – Alberto Zanella, owner of Azienda Agricola Sant'Agostino, Italy
Ours is a family company, passed from my grandfather to my father and now to me, we produce calves on straw and cultivate 30 hectares. In 2021 we decided to install a 100Kw biogas plant, entirely powered by bovine manure, coming from our company and, after several researches, I chose the Vogelsang PreMix as a liquid feeding system. This is because we have a very "difficult" manure, dry and with long straw fibers, and it create an excellent mixing inside the digester avoiding floating in the tank.
We are the first small-scale plant in Italy to have installed the Vogelsang PreMix system and we are very happy with it because this technology allows us to keep the plant's own consumption very low, making even a 100 kW biogas really efficient.
The Company | Soc. Agr. Sant'Agostino
Year of construction of the plant | 2021
Size | 100 Kw
Matrices | cow manure on straw – grain
Vogelsang products and solutions | PreMix liquid feeding system