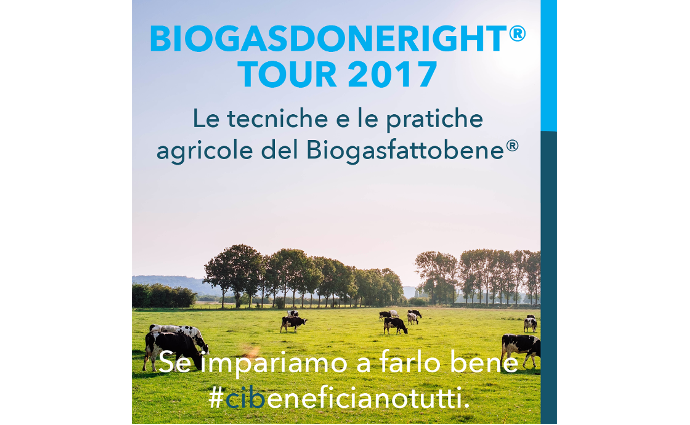 September 2017: Biogasdoneright® Tour
Seven training meetings in seven Italian regions. First session for CIB Members only, addressing issues related to sampling of digestate, analysis and controls. Second part open to everybody, focused on best agricultural practices, use of digestate, according to the model of Biogasdoneright®.
Programme of the meeting:
4:00 – 6:00 p.m. CIB MEMBERS ONLY: Abstract Digestate Guidelines; D.M. 25.02.2016 – How to manage the controls
6:00 – 8:00 p.m. OPEN SESSION: Presentation of Biogasdoneright® model, potentialities and environmental aspects; technical and agronomic aspects; Biogasdoneright® certification.
Dates
Sept. 18 – PIEMONTE Carmagnola (TO)
Sept. 19 – LOMBARDIA Castelverde (CR)
Sept. 21 – LAZIO Fiumicino (RM)
Sept. 22 – PUGLIA Candela (FG)
Sept. 2
5 – FRIULI VENEZIA GIULIA Udine
Sept. 27 – EMILIA ROMAGNA Minerbio (BO)
To keep informed about the venues and programmes, please monitor the events page on CIB website.