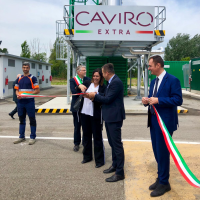 Agricultural biomethane is reality! First cubic metre fed into the gas grid
The Caviro Group, a CIB member, today inaugurated the first agricultural biomethane plant in Italy. Obtained through upgrading with membrane technology, advanced biomethane is fed into the gas grid and distributed to service stations as biofuel. The biogas plant is fed by a mix of by-products from the distillation process and livestock waste.
The plant will be open to the public on June 8, 2019 at 15:00.
Says Piero Gattoni, CIB President: "The introduction into the grid of the first cubic meter of renewable gas of agro-industrial origin is a historic moment for all Italian agriculture. Caviro is a virtuous example of coexistence between agriculture and renewable gas production that I hope will soon be followed by others."