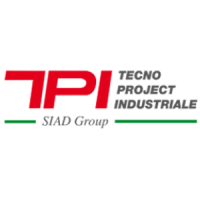 ITALIAN VERSION
TECNO PROJECT INDUSTRIALE è una azienda italiana, costituitasi nel 1987 e localizzata a Curno (Bergamo), specializzata nelle soluzioni relative al mercato del Gas & Beverage Industries e/o in altre applicazioni sempre relative al settore Gas.
In particolare:
– CO2 Impianti di Recupero (Purezza ingresso > 95%)
– CO2 Impianti di Produzione (da combustione)
– CO2 Impianti di estrazione (Purezza ingresso > 5%)
– CO2 Impianti di recupero del Ghiaccio Secco
– Impianti per industria dei Gas
– Unità speciali di refrigerazione
– Impianti di Upgrading per produzione di Biometano dal Biogas
– Impianto di recupero della CO2 da Upgrading da Biogas
LA NOSTRA STORIA
Nel 1987 TPI è stata costituita con sede in Curno con due Divisioni: Impianti di purificazione ed essiccamento dei Gas e Impianti di CO2. Già presente negli anni precendenti come azienda individuale di consulenza
Nel 1991 TPI trasferimento della sede in via Fermi 40, Curno.
Nel 1997 Tecno Project Industrial Ltda viene create in Brasile a San Paolo.
Nel 2003 TPI inizia una sempre più stretta collaborazione con il partner Pentatec, società specializzata in sistemi dedicati di analisi gas puri e CO2 "food grade".
Nel 2013 Pentatec diviene 100% di proprietà di TPI.
TPL , diventata TPI Brasile , ormai leader del mercato impianti CO2 da birreria in Brasile , si trasferisce in una nuova sede a Salto, nuova zona industriale nell'area di Campinas, Stato San Paolo.
Nel 2014 TPI Diventa una società 100% di Siad M.I. e scorporando la Divisione GAS integrata in Siad M.I.
nello stesso periodo amplia la gamma di impianti estrazione CO2 entrando nel mercato della separazione CO2 da Biogas e quindi sviluppando i sistemi di "Upgrading Biogas".
Dal 2015 TPI inizia ad aprirsi verso nuovi mercati oltre a quello della CO2.
Nel 2016 /17 mette in servizio il primo impianto industriale in Italia con immissione in rete di Biometano e la produzione di CO2 alimentare.
ENGLISH VERSION
TECNO PROJECT INDUSTRIALE is an Italian company incorporated in 1987, located in Curno (Bergamo) and specialised in solutions for the Gas & Beverage Industry market and/or in other Gas sector related applications.
In particular:
-CO2 Recovery Plants (Inlet Purity > 95%)
-CO2 Production Systems (from flue gas)
-CO2 Extraction plants (Inlet Purity > 5%)
-CO2 Dry Ice Recovery Plants
-Plants for the Gas Industry
-Special refrigeration units
-Plants for the production of Biomethane from Biogas
-Biogas Upgrading CO2 recovery plant
OUR HISTORY
TPI was incorporated in 1987 with headquarters in Curno and two Divisions: Gas purification and drying plants and CO2 plants. Prior to the incorporation of TPI the founders had been providing consultancy services for several years operating as a corporation sole
In 1991 TPI relocates to its current site in via Fermi 40, Curno.
In 1997 Tecno Project Industrial Ltda is incorporated in São Paulo, Brazil.
In 2003 TPI starts ever-closer collaboration with its partner Pentatec, a company specialised in pure gas and food-grade CO2 analysis systems.
In 2013 Pentatec becomes a fully owned subsidiary of TPI.
TPL, which is now trading under the name TPI Brasile and has assumed leadership on the Brazilian brewery CO2 plants market, relocates to a site in Salto, a new industrial zone in the Campinas district of the municipality of São Paulo.
In 2014 TPI becomes a fully owned subsidiary of Siad M.I. and after hiving off the GAS Division to Siad M.I.
In the same period the company extends the range of CO2 extraction plants, entering the Biogas CO2 separation market and developing Biogas Upgrading systems.
From 2015 TPI starts to open up to new markets in addition to the CO2 market.
In 2016 /17 the company brings its first industrial plant on stream in Italy, with injection of Biomethane into the gas network and production of food-grade CO2.
Impianti realizzati / Realizzazioni: 7.000
Paesi serviti: +600 istallazioni in tutto il mondo
Spazio produttivo: +5.000 m2
Addetti: 47
Presenza sul mercato (anni): 20 anni di esperienza